Dodge Service & Part automotive - Dealership
Dodge service & part automotive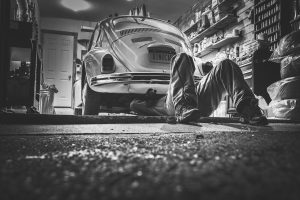 Whether you drive a Chrysler, Jeep, Ram, or Dodge, your vehicle is a valuable asset that deserves careful protection. Our service department is staffed by experienced technicians with expertise in your make and model of vehicle, and we can maintain and repair it with the meticulous attention it demands.
Full Range of Services Offered by our Dealership
We offer an extensive range of scheduled services, routine maintenance programs, and major and minor repairs at our Grand Falls-Windsor dealership. From simple oil and filter changes up to major transmission replacements, we can carry out the work your vehicle needs to a fully certified standard.
Quality Parts and Components
And what's more, we source all the spares and repairs we need to complete the work through our own approved parts department, using genuine OEM components for a perfect fit and lasting reliability.
Trusted Service and Maintenance Providers
We also offer more than just straightforward servicing and maintenance. We can inspect your vehicle and give you free and impartial advice on any extra work it may need to keep it in perfect running condition. We can also warn of any potential issues before they develop into problems which are costly to fix.
Booking an Appointment in our dealership
Booking your vehicle in for a regular service or a more extensive repair is easy using our short online form. Simply send us your contact details, a little necessary information about your vehicle, and the type of work you want us to carry out, and we'll do the rest. We'll get back to you to arrange a time that suits your schedule, and quote you a price estimate so you know exactly where you stand.
Alternatively, call our service department on (709) 489-2151 or drop into our offices at Trans Canada Highway, Grand Falls-Windsor, NL, A2A 2J9, and we can reserve your service slot for your most convenient date and time.
What about Dodge part in our Dealership ?
Whether you're driving a family-friendly SUV or a high-performance off-road beast, your vehicle is an amazing piece of precision engineering. Every Chrysler, Dodge, Jeep, and Ram relies on thousands of parts all working together, and your vehicle only performs as well as its weakest component.
When it's time for replacements, repairs, or upgrades, it's vital to use the right parts or you could be storing up plenty of trouble for the future.
Genuine OEM Parts for a Perfect Fit
At Marsh Motors we carry a huge range of genuine OEM and certified parts for all Chrysler models, as well as the other brands in our lineup. When you buy a part from us, it's guaranteed to fit straight into your vehicle with no hassles or compatibility problems. What's more, all our parts are carefully inspected for quality and come with a warranty to ensure trouble-free fitting and operation.
And if you need any component or accessory for any other make of vehicle, we can order it for speedy delivery at a competitive price.
Ordering Genuine Parts Made Easy
To get your needed parts quickly and easily, let us know what you require using the form below. If you can supply the part name and number that's great, but if not our friendly parts team can help you zero in on exactly what you need. Just give us your vehicle details and the type of part you're looking for, and we'll do the rest.
Once we receive your information, we'll check our stock and get back to you with pricing and availability. And if we don't have the part you need immediately on hand, we can order it for prompt delivery through our network of trusted suppliers.
Alternatively, call into our Grand Falls-Windsor dealership, and our parts experts will check your Chrysler, Dodge, Jeep, or Ram vehicle and help you identify the precise components you need to get it back running in perfect shape.